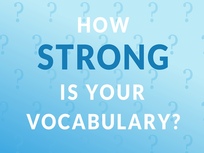 How Strong is Your Vocabulary?
Take our 10-question quiz to find out — and maybe learn some new words along the way.
You can try it as often as you'd like (we have dozens of different versions).
You'll have 10 seconds to answer each question. The faster you answer, the higher your score. The harder the question, the higher your score.
START THE QUIZ
Next:

How Strong Is Your Vocabulary?
Next:

Figure Out These Acronyms ASAP
Next:

Spot the Difference
Next:

Odd Habits and Quirks
Crosswords, Puzzles, and More
More Games
Many of our games used Adobe Flash, but Adobe discontinued support. We'll be working on some pretty big changes over the next couple months. We're really excited about what we have in store and we hope you stick with us through this tough transition.